9 Common Mistakes Therapists Make In Business And Marketing. Being a healer, therapist, and running a business has its challenges. Most of us become healers, therapists, or coaches to be of service. We are motivated by our own life experiences, our own healing journey. We want to spend most of our working week helping clients.
But, like any business, we can easily spend as much time running and marketing the business. Than actually providing the services we are trained to provide. There can be so much to do, so much to remember and so much you don't know when you first start. That can actually cost your business in the long-term. Especially if you have only attended short or fast track training courses that simply don't have the time to cover everything you need to learn.
Sadly more and more therapists, coaches, and healers are even making legal mistakes regularly and don't even realise it.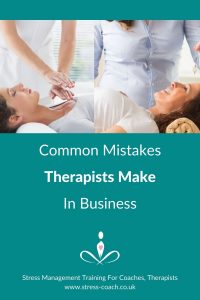 9 Common Mistakes Therapists Make in Business And Marketing
Insurance Should Be Non-Negotiable. Even when your only starting out and only have a few clients, you must be insured. Your clients well being and protection has to come first. It is important to have full Indemnity Insurance on all therapies, classes, and training you practice. This type of insurance policy will help cover many eventualities including accidents at your or the clients' premises. Legal action is often more common than many healers and therapists realise.
Never make claims that your treatment or therapy can cure specific ailments, this is illegal. You may say can help, can aid, can reduce, can support, can help eliminate…
Make sure all equipment and products are safe, updated, and electrically safe, get yearly PAT testing. Check high-risk products like a brand of Hopi ear candles are up to safety standards.
Follow the National Occupational Health & Safety Standards regularly, check for any updated requirements.
Never use images you find on the internet or social media for your website or marketing unless definitely royalty-free. You can now get sites that offer free to use stock photos or buy images very cost effectively. Promotional marketing images used to be very expensive I had to pay £80 for one marketing image which now costs approx. £1-$1. I used to design websites for others and on 3 occasions was served with a legal action letter. These letters were a demand for £2000 over images therapists/ business owners stated were royalty-free but weren't. I had to legally fight these three separate incidents which were extremely stressful and time-consuming.
You Need PRS License or Free PRS Music if you play music in any of your sessions or classes that include online sessions. I know two fitness teachers who were served with a hefty fine because they were playing music without a license.
Make sure your Business Trading Name is not someone else's trademark. It is illegal to name your business after a patented trademark.
Choose wisely any products you sell or pass on to your clients. Too many companies make bold claims especially the herbal, supplement and nutrition industry. Many products are not 100% safe for all clients. Specifically with clients with certain health conditions. I am still shocked at how many combination herbal remedies and supplements are classed as completely safe and suitable for everybody. Be very wary, these are simply heavy unethical sales tactics. Everyone has different body types, different allergies, different needs, different challenges so will need and respond differently. I personally have had serious consequences to being given products deemed safe which were not suitable for my pre-existing conditions.
Before attending any training or certification check out the content and people behind the training school. Does the training cover the skills, training and certification you require for the work you want to do? Will you be able to get insurance? Will you be able to practice legally. Every type of training is different and has a different purpose. We now have many fast-track training schools that state they can train people up in less than a few days. But these are often subjects that would normally take therapist years to train. It is worth questioning the quality, standard, and recognition compared to other similar training. It may be the cheapest or quickest but it's no use if it does not cover the skills or training you require. Or if its not insurable. Don't be shy about asking the school, about the qualifications and experience of their tutors. I meet many therapists who have invested a lot of money on inflated fast-track training. Training that turns out to be a waste of time, energy, and money.
If you are a holistic or spiritual business owner and would love more business and marketing tips to avoid many mistakes therapists make, check out our other site at Spiritual Marketing Club
Increase Your Income While Empowering Your Clients
Teaching relaxation therapy, meditation techniques, and stress management techniques to your clients.