Calming Benefits Of Lavender Essential Oil
Soothing and calming benefits of lavender essential oil to reduce anxiety, stress and other mental health challenges. The therapeutic benefits of lavender oil, cautions and contradictions for safe effective use.
Therapeutic Benefits Of Lavender Essential Oil
Why pure lavender oil is one of the most popular essential oils used in aromatherapy and medicine and is recommended to be part of every home first aid kit.
The healing and calming benefits of lavender as an essential oil and an aromatherapy oil.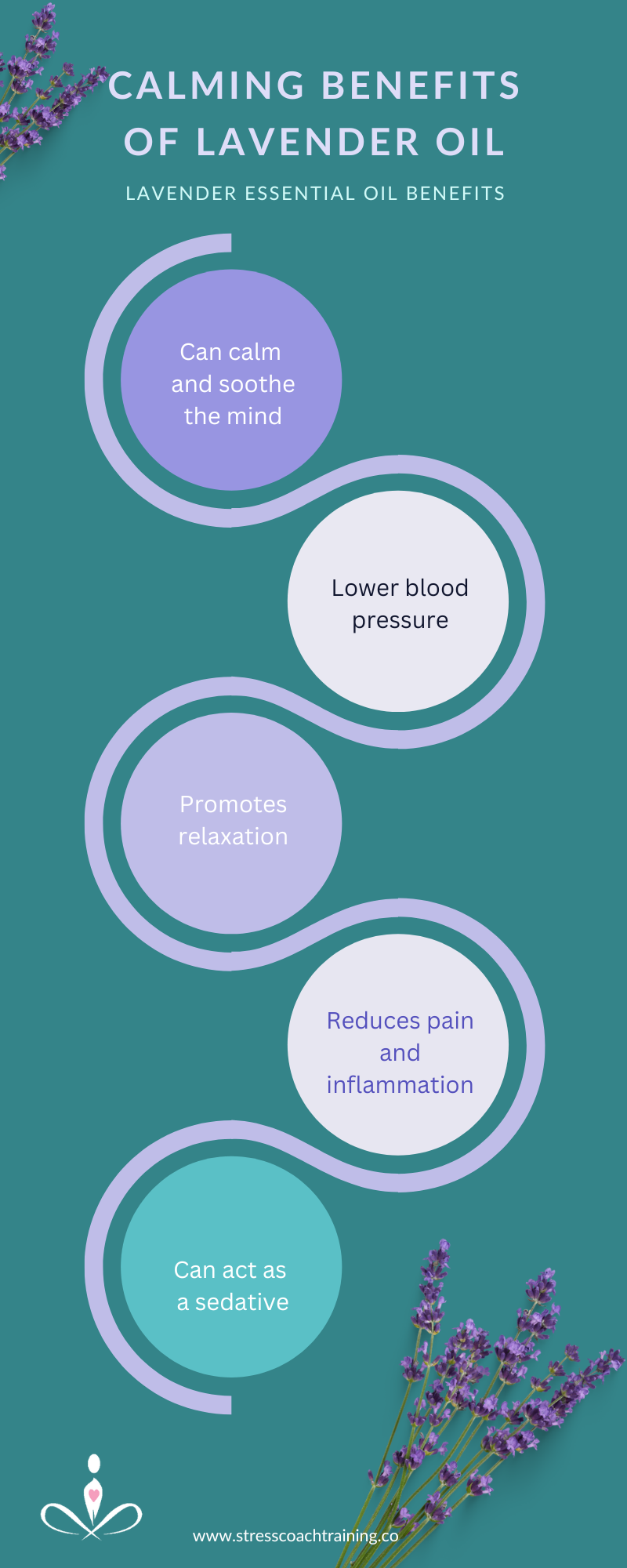 Lavender is known to be a helpful aid in lowering blood pressure.

Lavender for many people acts as a sedative.
Medical Studies On Lavender Oil
Lavender In Treatment Of Anxiety And Related Conditions
In one study "Lavender was used in the treatment of anxiety disorders and related conditions…" Silexan, an orally administered Lavandula oil preparation, is effective in the treatment of 'subsyndromal' anxiety disorder: a randomized, double-blind, placebo controlled trial. International Clinical Psychopharmacology. 2010;25(5):277–287. [PubMed] [Google Scholar] [Ref list]
Lavender Aromatherapy To Treat Insomnia In Midlife Woman
Chien LW, Cheng SL, Liu CF. The effect of lavender aromatherapy on autonomic nervous system in midlife women with insomnia. Evid Based Complement Alternat Med. 2012;2012:740813. doi: 10.1155/2012/740813. [PMC free article] [PubMed] [CrossRef] [Google Scholar]
Lavender And Improved Quality Of Sleep In ICU
Lytle J, Mwatha C, Davis KK. Effect of lavender aromatherapy on vital signs and perceived quality of sleep in the intermediate care unit: a pilot study. Am J Crit Care. 2014;23(1):24–9. doi: 10.4037/ajcc2014958. [PubMed] [CrossRef] [Google Scholar]
Lavender And Reduction On Inflammation
Effect of Lavender (Lavandula angustifolia) Essential Oil on Acute Inflammatory Response https://www.ncbi.nlm.nih.gov/pmc/articles/PMC5878871/
The Safe And Effective Use Of Lavender As An Essential Oil
How to use lavender essential oil in a safe and effective way.
Don't use essential oils near the eyes, ears and nose.
Never ingest essential oils
Never apply essential oils directly to skin always dilute ( choose the right dose appropriate for age and condition)
Always check for cautions and contraindications
Lavender oil should never be ingested or applied directly to the skin always diluted with a carrier oil or base oil or mixed with milk or water. Although lavender is generally soothing on the skin, it rarely does cause irritation in some people, especially in cases of over use of lavender.
Although lavender oil can be extremely therapeutic like all natural medicine all essential oils have to be used with caution. Recent research suggests lavender has estrogen-boosting and anti-androgenic effects so should only be used occasionally in young boys and after the first trimester in pregnancy, avoid during breast feeding and in infants under 3 months.
Lavender although classed as a balancer does reduce blood pressure so should be avoided if suffering from low blood pressure and check for contraindications in relation to prescription medication.
Where Can I Buy High Quality Lavender Oil?
If you are based in the UK I would recommend a reputable high quality grade essential oil supplier like NYR Organics.
Organic Lavender Essential Oil 10ml CLICK HERE
Pure Lavender Essential Oil 10ml CLICK HERE
Lavender Bath Salts CLICK HERE