Training
For Therapists and Coaches
Online CPD Training for therapists, coaches, and healers.

Stress Management and Relaxation Therapist Training For Therapists, Organisations.
A wide range of CPD courses for therapists, coaches, health and wellbeing organisations. Online meditation, relaxation, sleep therapy, anxiety and stress management courses by Meditation Teacher & Stress Management Expert – Eileen Burns.
Online Training For Therapists
Certificate Stress Therapist Training Coming 2020
Marketing Courses For Healers, Coaches
Most of our online learning is provided by Stress Management Expert & Meditation Teacher, Eileen Burns with Bonus Sessions from Guest Trainers – David Rabone, Claire Ryan Heatley.
How To Become a Relaxation Therapist & Teacher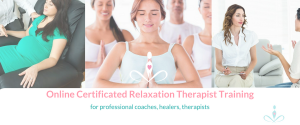 Stress Management 101 Program
Learn how to let go of stress with our introduction to Stress Management Course.
Learn a variety of anxiety and stress-busting tools from our Stress Management 101 Toolkit
Which includes our most popular anxiety and stress busting tool of 20 years
Our less than 5 Minute Meditation Technique
Balanced Lifestyle Analysis Tool, Elephant In The Room Analysis Tool,
Traditional Breathing Meditation, Muscle Relaxation Technique
Breathing Checklist, Internal And External Stressor pdf,
Certificate Stress Therapist Coming in 2020
Sign up to our newsletter to get the latest tips and information about our new courses and training events.