About Stress Coach Training
Stress Coach Training is an accredited online training provider for therapists, coaches and individuals. An established business since 2000 originally named The World of Health provided by coach, healer, and therapist – Eileen Burns.
Stress Management Courses and Training
Eileen's passion is empowering others to live a more calm, anxiety, and stress free life. She provides online anxiety management, stress management, meditation, and accredited relaxation therapy training for therapists and clients. Self-care programs for empaths and highly sensitive people struggling with anxiety, stress, overwhelm.
Business and Marketing Courses For Coaches, Therapists
Business and marketing programs for spiritual and holistic business owners through her Spiritual Marketing Club.
Owner Eileen Burns, Stress Coach, Therapist & Healer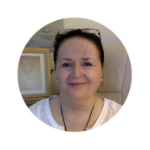 Eileen Burns owner of Stress Coach Training began studying holistic wellbeing and meditation over 28 years ago whilst chronically debiltated in her early twenties.
Eileen has a wide range of Professional Qualifications and Experience in Stress Management, Therapies, Healing and Personal Development. An Advanced Stress Adviser, CBT Practitioner and Life Coach at University Level. A highly experienced Meditation Teacher, Relaxation Therapist, and Trainer. Who taught meditation, stress management, holistic wellbeing to local education, charity and health sector including NHS for 15 years.
Qualifications & Experience
University Certificates
•Advanced Stress Advisor*
•Stress Advisor*
•Cognitive Behaviour Therapy*
•Life & Spiritual Coaching
Diplomas
•Anatomy
•Aromatherapy
•Colour Therapy
•Flower Essences
•Indian Head Massage
Certificates, Courses & Training
Traditional Usui Reiki 1& 2, Traditional Usui Reiki Master & Teacher
Handling Stress, Managing Stress
Laser Therapy – Stress, Weight, Addictions
Guided Visualisation for Therapeutic Use,
Meditation & Relaxation Training,
Mindfulness, Transcendental Meditation,
Quantum Entrainment
Counselling Certificate, Counselling for M.E., Be M.E. Aware,
Psychology*, Cognitive Psychology*, Biological Psychology*
Connect Kids 1- Meditation, Infant Baby Massage Instructor
Community Care, Health Issues in the Community Level 1 & 2
Youthwork, Groupwork skills
Anger Management, Assertiveness, Colour for Image, Colour Therapy, Time Management, Ultimate Therapist Course-Coaching, NLP, Hypnotherapy, Emmeagram, Akashic Record Training, Channeling 1 & 2
Testimonials from Clients and Students
I thought that was no hope for me … that I was always destined to suffer from anxiety. That was a scary prospect. From the first time I met Eileen I felt like I was in a good, SAFE place where I could feel comfortable, with somebody who understands me without judging…I feel I have my power back to be my natural self again, and for that I am so grateful. To anyone struggling with any aspect of their lives I canot recommend strongly enough allowing Eileen to help you get back on the track you want.
"I have a better quality of life now since Eileen taught me how to let go of stress"
"I have learned valuable relaxation technique tools that I can use at home, at work and in any social event – without which I could not have managed"
"Eileen has taught me how to get rid of anxiety"
"My panic attacks are now less frequent and I have learned the tools/skills to cope with them better"
"I can now cope better with my caring role"
"Eileen is a highly qualified professional in her chosen field, but more importantly she is a very caring person who puts everyone at ease when they first meet her. I found the relaxation therapy courses I attended very informative and benefited from the small group setting which allowed Eileen to spend more time with each student. I learned a number of relaxation techniques which I now put into practice when working with my clients.
I would highly recommend Eileen to any fitness, health or wellness professional who wants to enhance their skills and personal development. "
"Eileen is a first-class therapist, who tailors her approach effectively to meet the specific needs of each indiviual client. Eileen's meditation classes are the best I have ever attended and I would recommend them highly."
This page has been updated 1st May 2020
Free Video Series