So What Is Stress Management?
Stress Management is the use of various strategies and techniques used to help one manage, reduce, and let go of stress. The use of various strategies and techniques used to help one move from the "stress response" to the "relaxed response".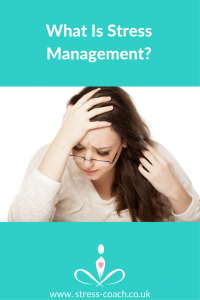 Stress Management is a term used rather loosely and widely today by many forms of therapy or treatment and stress awareness training. Sometimes where the client totally relies on the practitioner. But in my work, I see stress management as life and self-help skills, empowering skills. Stress Management and stress awareness tools and techniques that can be taught to and used by anyone to manage and reduce their own stress. More specifically the types of stress; chronic stress and episodic acute stress that impacts our health and wellbeing.
As a Stress Advisor and Relaxation Therapist, I teach the client or student how to reduce or manage their own stress. I use a wide range of stress-busting tools, life skills, and forms of therapy to help support and treat clients. Especially those that will help the client or student address the cause of the stress.
This is normally done not just through one aspect of mind, body, spirit approach but through a combination approach. One form of stress management or stress therapy rarely fits all. Managing stress is about trying to reduce and eliminate the stressors, about helping the person become more stress-resilient.

As someone who has studied Stress Management for over 25  years, and taught in this field for 20 years. I have learnt that one form of stress therapy rarely fits all.  In this work, we use a wide range of anxiety and stress-busting skills and strategies which will normally include life skills like meditation and mindfulness,  relaxation therapy skills, breathing techniques.  Lifestyle analysis and management tools, including time management, personality and or psychometric testing.  A variety of mindset tools such as CBT, NLP, hypnotherapy, assertiveness training, confidence building…
We help people manage and balance different areas of their life stress at work, stress at home, family stress, relationship stress, parent, and carers stress. If you would love to help clients relax and let go of Stress? Check out our Stress Management 101  or Free Video Series – How To Become A Relaxation Therapist & Teacher