Meditation For Menopause
Relaxation Therapy and Meditation For Menopause.
Supporting a more calm and balanced body, mind, and spirit with our meditation for menopause programs.
Are you struggling with extreme fluctuations in hormones and emotions?
Maybe you seem to have lost, your calm and confidence?
Feeling wiped out with fatigue, hot flashes, flushes, or insomnia?
Menopause is a time when our mind, body, and emotions need a lot more balance, a lot more support.
Menopause is a time for more self-care, more introspection than extrospection.
Menopause is a time of change not just to our body, but a time of change to our lifestyle.
That is why I created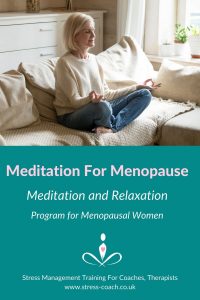 Meditation For Menopause
Meditation For Menopause Program is a
Meditation and Relaxation Program for Women During Menopause.
A simple self-care program for menopause packed with relaxation, meditations, and guided meditation to encourage more relaxation, a deeper inner connection with your mind, body, and emotions.
Listen and nurture your body has been specifically aimed at helping you connect more with your body, help you identify what your body really needs during this time of change.
5 Minute Meditation, 
Body Scan Meditation
2 x Traditional Meditation Techniques,
2 x Guided Meditation For Sleep,
Listen And Nurture Your Body Guided Meditation
SPECIAL OFFER