How to boost business when you are a therapist, healer or coach. Being self-employed in the therapy, healing or coaching industry is not always easy. Especially when everyone and their granny who has done the latest fast track or cheap online training course seems to be entering the holistic sector.
Growing A Business
No matter if you have been in this industry for a few months or a few decades, the reality is building a business takes time. Business growth usually takes a lot of energy and dedication. Some types of business models are easier to grow than others. But it can also depend on the industry you are in, your niche or area of expertise and how effective your marketing is.
But businesses also need to constantly evolve and adapt to the current market. We need to provide products and services clients actually want and will buy. Some times of work are faddy, some are seasonal, some have a longer shelf life than others.
Why Every Business Needs To Adapt To Survive
So every business needs to move with the times, move with their client's wants and needs. If you are a coach, healer or therapist you evolve the clients you worked with 10 or 20 years ago are often not the type of clients you work with now. Every holistic and spiritual business is different, every business model and niche has a different shelf-life. But the reality is to thrive and survive in business you need to adapt and grow.
Business Survival Statistics
Sadly 60% of small businesses don't survive more than 5 years. Some don't get off the ground because there is not enough demand for the products or services they are offering. A lot of holistic and spiritual businesses fail because they underestimate the cost of marketing and running their business. Or are offering products and services in a highly saturated and competitive market.
Many are naive about all the other things they need to do on a daily or weekly basis to function as a proper business.
For any business to survive it has to move with the times and expand beyond any presenting challenges. As a business owner for 20 years, I know a lot of having to be adaptable, especially running a business with all sorts of disabilities and health challenges. I know how important it is to constantly re-assess your business and current market. To check in to see what my audience actually wants and needs at any given time.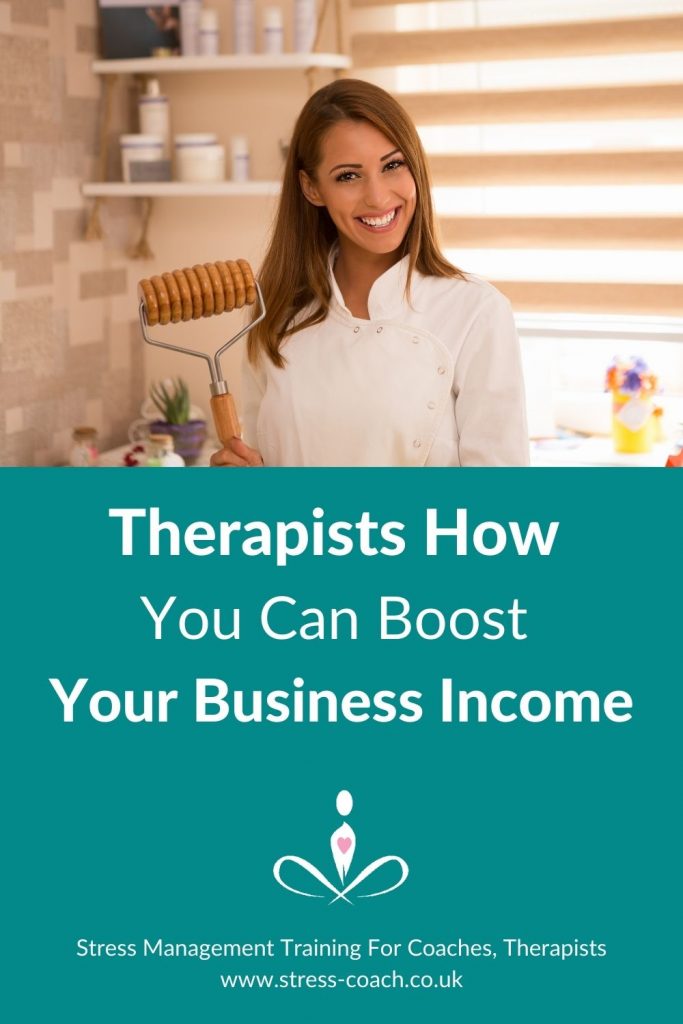 So how can I boost my business?
How can I earn extra money for my therapy business? Well actually there are lots of ways but here are a few
Sell Extra Products Your Ideal Audience Would Want: Although I am not big on multilevel marketing type companies. I have sold my own range of products including essentials oils to boost my business. Have been a consultant or adviser for different health and wellbeing companies, that offer high-quality products. Products I personally use myself and those I knew my audience would be interested in. For example I still have an online NYR Organics shop. I love their ethics, the fact all their product are 100% natural, some organic.
Make Your Own Products: If you're a qualified aromatherapist, flower essence practitioner or have a certificate in cosmetic making. You may be able to make some of your own products or run classes. As a qualified aromatherapist with a certificate in cosmetic making with Plush Folly . It used to teach all sorts of cosmetic making projects in schools and kids projects. Just check out your qualifications, insurance, and present cosmetic making legislation.
Become An Affiliate: If you run an online business becoming an affiliate for companies you buy from is another way to make income. I offer my students the opportunities to become an affiliate to sell many of my online products and training.
Create A Membership Program: Today it has never been so easy or cheap to create a membership program for your audience or for your present customers as an extra service or new business. Learn more about how to create online courses and membership programs in my free pre-recorded webinar How To Create Online Courses
Run Online Classes And Live Classes: Today people clients don't want to just be treated, they want to learn and they want to learn from experts, those highly experienced and qualified in certain subjects. Teaching clients about aromatherapy at home, how to use those crystals, how to implement some basic daily self-care has never been so needed. Our Cert Relaxation Therapist Training teaches our students how to teach a wide range of relaxation and stress management classes. Including meditation, mindfulness, sleep therapy and pain management classes. You can also learn how to teach a wide range of holistic courses online.
Get A Part-Time Job: Having a part-time job is a great way to boost your income. Another job can have a lot of benefits it can give you a sense of security that you know you have some regular sort of income every week. If you are self-employed this can be a great way to meet other people and be able to maintain the other social benefits associated with a normal job. Other jobs can help build new skills or keep your hand in with other skill sets that are handy. Having set times or days help give your week more structure if you run the type of business that changes each week.
How To Survive A Business Crisis
There have been quite a few times in my business when I faced incredible challenges and crisis. Times when I had to look for other ways to boost my income and even to take on part-time jobs. Even though getting a normal job around severe mobility issues, around extreme fatigue and stamina issues was really hard. Thankfully, I am a very motivated and determined person and where there's a will there's a way. See more on How To Grow My Business During A Crisis
You see for the last 25 years I knew this was my calling, my purpose. I didn't want to do anything else, so I did everything I could do to continue my work. I have always focused on what I can do, looked at my skills and experience from a wider experience and at times thought out of the box. All vital elements for the surviving entrepreneur.
How To Boost Your Income By Becoming A Relaxation Therapist & Teacher
[Originally published September 2017 updated 5th April 2020]