How Do You Choose the Right Therapist Training? How do you choose the right therapy course and training for your needs? Especially, when the market offers so many different types of coaching, healing, and therapist training courses. And may you are not sure what type of therapist training you should do?
Know Your Why
When you know your WHY, things get so much easier. When you can really drill down why you want to do become a therapist things get clearer. Knowing what issues you want to help clients with, helps you be more specific to the training you need.
If you're already a trained healer, yoga teacher, or therapist who wants to up-level their skills, expertise or income. It can help to revisit your why, maybe your why has changed, got much clearer or even much deeper.
Understand Your Why
Understanding your why your story and motives can also help you see if your why is for the right reason. My initial WHY started as a quest for answers and solutions from a complex medical history from a young age. But quickly transformed into a deep passion for empowerment through a holistic, spiritual way of being. I have studied all sorts of healing and therapy modalities for just under 30 years. But underneath it all, my own journey was all about moving from a place of dis-empowerment. So all I have ever wanted is to help others take back their power. Teach them how to live a happier, healthier stressless life on their terms. Despite spending a large part of my twenties housebound and bedbound. I eventually got to empower myself and others. Through teaching meditation and stress management in the health, education, charity, and therapist sectors for many years. And by training therapists and coaches to become relaxation therapist and teachers, so they could help empower their clients.
I realised very early on in my journey I wanted to be more than a healer or therapist, I wanted to be a teacher, an empowerer. Because for me, the most inspiring, powerful healers, therapists, and teachers I ever met were also natural empowerers, natural educators. Those who'd dedicated their lives to learning and being of service to help their clients and students grow and blossom. Also, for me I was a natural teacher and motivator from a young age, so it came very easily to me.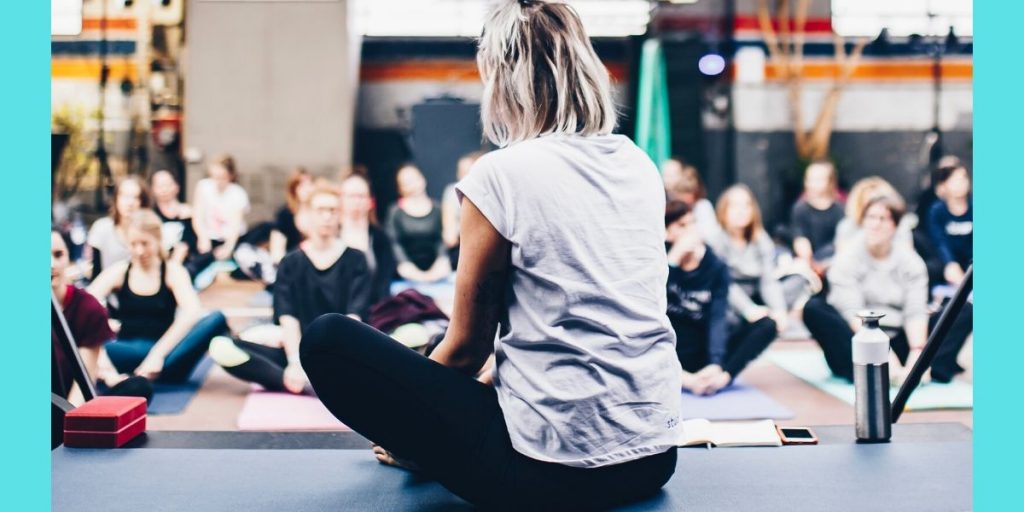 What Level Of Therapist Training Do You Need?
Make a clear list of what skills you expect and need from a course. Knowing what level and depth of therapist training you need and want is a big factor. A big mistake many therapists make is choosing the first training they see or something they fancy doing. And then realising their training did not give them the depth of skills they required or needed.
Ask about and enquire about the type of training or accreditation that would be required in that type of industry. Every type of therapy modality is different. But sadly we are seeing supposed training that normally takes a year to a few years, being offered in a few days or weeks. I've met too many therapists who've invested a lot of money in training that promised the world and didn't deliver. Some left with a lot of debt, no clients and the only choice but to go back to employment.

Location Of Therapist Training Schools
Location of where you live or you can travel to can often make or break the choice of training you can access. But today there is a lot more training providers who offer training dates in different regions throughout the year. So make sure you do your homework, search online for the type of therapist courses and training you are looking for. Decide if you're looking for a weekday course, evening or weekend course or maybe online training.
Online Therapist Training Providers
I now only provide online therapist training, training that is perfect for students who struggle to fit in the time to do other types of training. It is also handy for therapists who just want to add more therapist skills to their toolbox. Although our new online training school is very user-friendly for even students who class themselves as a bit technophobic. The training is only suitable for students who have basic computer skills and can speak and write in english fluently.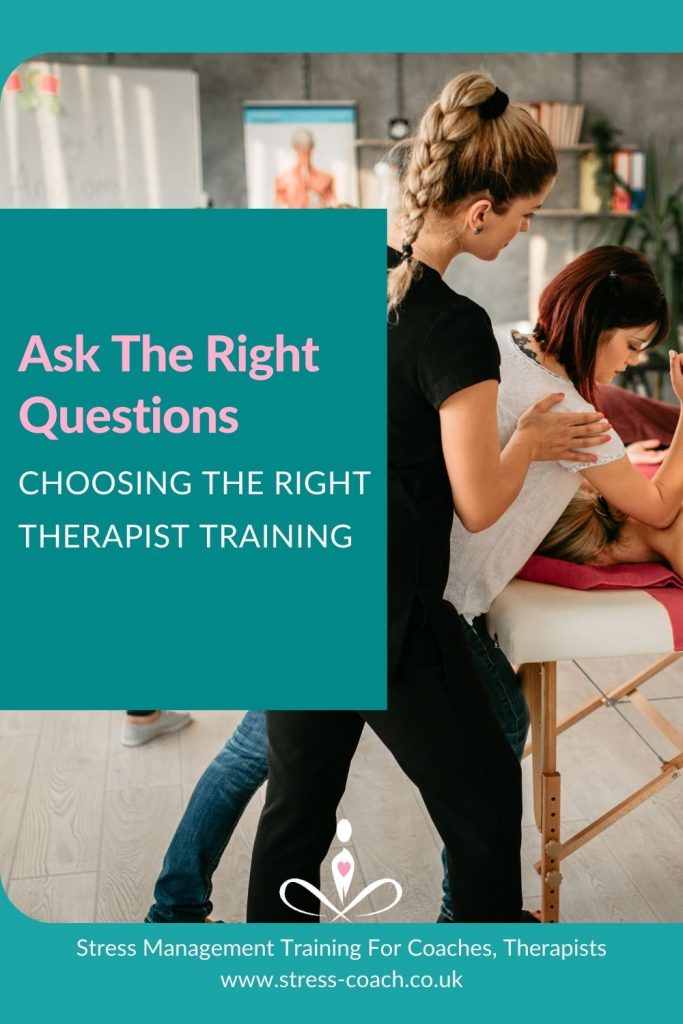 Ask The Right Questions
Don't be shy about asking the training school or trainer any questions you have. It is your money and time that you are investing, it is their responsibility to answers the questions you have as best as they can. I offer a short online chat with students who are unsure or want to find out more.
What is included in this therapist training?
You want and need to know if this course or training includes these specific skills at the specific level you need or want to learn. If there are specific topics you want to learn or cover, ask if they will be included in the course.
Is this course or therapist training accredited?
Unless you're a qualified therapist who is just looking for add-on tools, you'll probably want to know if the course is accredited. Some types of therapist training are only recognised if it is accredited by specific boards. Don't assume certain training is accredited by specific bodies, ask and do your own research. We are presently accredited by the IPHM International Practitioners of Holistic Medicine, ideal for our specific needs. But some types of training particularly those that include more serious physical considerations like bodywork, nutrition, counselling, psychotherapy need to be approved by larger bodies.
What will I be qualified to practice or teach with this qualification?
It's always important to check that the level of training you are taking will qualify you to practice or teach the skills you expected. Some courses require you to take different levels of training before being able to practice. And just because something says Certificate or Diploma doesn't really mean anything, about the level or quality of training. Especially in the holistic training sector today, where there is a huge lack of standardization.
I studied a wide range of Stress Management courses which included up to levels 3 & 4 at University Level on training that was originally piloted for the NHS. As well as studying a variety of other stress management courses at college level and private sector. Only the Stress Management Advisor Qualification through university was recognised by certain types of work and sectors. I have come across many students who do certain types of courses at colleges etc who assume this will get them into certain types of work which it doesn't. Many courses give you great additional tools when working with certain types of clients but they don't guarantee you certain types of employment.

What Qualifications Does The Trainer or School Have?
This can be an important question especially when there are so many training schools popping up offering everything and anything. You would be shocked how many training schools offer training in subjects they are not experts or have no qualifications in. Sometimes I buy courses from other online training courses to see how I can improve the structure of my own delivery. As I am quite a creative thinker and trainers than a more organised and methodical teacher. You would be surprised by the amount of supposed professional training courses out that are designed by instructors who aren't qualified in what they are teaching. And how very poor the content is. The problem is students don't know how poor or unprofessional the content is as they are not experts in this area. They also have no ideal how dangerous it is to have a little bit of knowledge. So please use discernment.
Sadly most of the training I see students doing now is by training providers, trainers and teachers who do not have the right qualifications or experience. Students make a lot of assumptions be suspicious of very cheap training and training over a few days or months normally undertake over 12 months to a few years. Would you want to go to a fast-track Dr or Nurse? Why would you want to go to a fast-track healer or therapist?
How Many Years Experience Do The School Or Trainers Have In This industry?
I don't know about you but I want to be taught by teachers, lecturers, trainers who have walked the talk. Therapists and healers who have been in the industry and know what actually works or doesn't. Who know the reality of the industry they are in. Not just theory about the holistic and wellbeing industry. I don't want to be taught by someone who hasn't actually worked in the field so to speak.
Will I be able to get insurance with this certificate or accreditation?
It is vital to know if you will be able to get insurance for the therapy you will be practicing or teaching. Different countries have different guidelines on insurance and accreditation of certain types of courses. So check out your insurance options. We have specific insurance companies that cover our accredited training here in the UK.
The ethics and values of the training school
For many of us, ethics and values are important. I like to buy from people and organisations, that have similar ethics and values to myself. At stress coach training school our first motto is Do No Harm First. Our core values and ethics are all about providing professional safe effective training. Our marketing is aimed at attracting therapists who want to do what is best for their clients. Not for students who just want the certificate. Every organisation and business has a different ideal audience. If your vegan you may only want to train with a school that only uses products not tested on animals. If you have specific beliefs you may only want to train with a teacher who has similar ideas.
Choose The Type of Training You Want And Need
Now more than ever you can choose from a wide range of types of training. The type of training you both want and need is unique to your needs and your gifts. So choose the type of course that lights you up, that will not only further your career and income, but will inspire you. Also, it is important to choose to training in areas where there is a demand, sadly there is a huge saturation of certain types of therapists and coaches. But not enough properly qualified stress management experts and relaxation therapists and teachers. One of the reasons I offer my in-depth accredited relaxation therapist and teacher training.
Free Video Series- How To Become A Professional Relaxation Therapist & Teacher
Learn how you can teach thousands of clients how to relax, let go of anxiety and stress. By teaching them powerful and effective meditation, mindfulness, relaxation, anxiety and stress management techniques.
Learn How You Can Become A Relaxation Teacher & Relaxation Therapist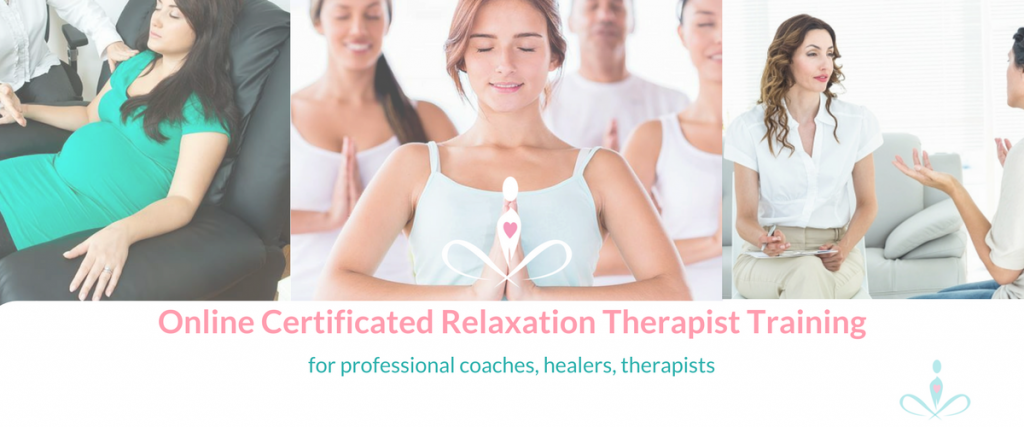 Stress Coach Training is online courses provided by a highly experienced and qualified Stress Management Coach, Relaxation Therapist, Meditation Teacher, Healer, and Stress Counsellor, Eileen Burns. She offers one of the most comprehensive Accredited Relaxation Therapy Training for Therapists, Coaches, Stress Management, Business and Marketing Courses for the Holistic and Spiritual Entrepreneur.