Creating A Career As A Relaxation Therapist, Relaxation Teacher.
How to create a career as a relaxation therapist and relaxation teacher. Despite being a highly qualified coach, healer, therapist, and stress advisor. I have spent most of 20 years in my stress management career as a relaxation therapist and meditation teacher. Teaching a wide range of meditation, relaxation, anxiety, and stress-busting tools and techniques to all ages and sectors.
For over 6 years I have been training students to become relaxation therapists and teachers. Which over the last 4 years became online relaxation therapist training. A career as a relaxation therapist helps you feel as calm and relaxed as the students and clients you treat. A role where you teach stressed-out clients, how to relax,  how to let go of chronic anxiety and stress even depression.
You can have a great career as a relaxation therapist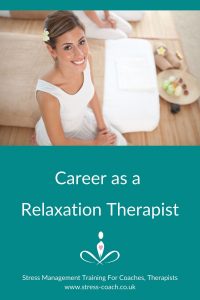 A career as a relaxation therapist trainer is an opportunity not just to help people learn to reduce their anxiety and stress. But an opportunity to help people change their lives, change their lifestyle, their unhealthy habits. A chance to teach people life-long skills that will empower them for the rest of their lives.
Sectors Where I Grew My Career As A Relaxation Therapist
One of the biggest areas of my career as a relaxation therapist was my work as a contractor to the education, health, community, and charity sector. Here, I taught all sorts of holistic well-being and stress management approaches to support health and wellbeing. But the most common wanted training, was life-long stress management skills, the simple powerful meditation and relaxation techniques I share in my Certificated Relaxation Therapist & Teacher Training. There is so many different types of therapist jobs out there but I believe there is not enough therapists teaching people how to manage their own anxiety and stress.

So What Does A Qualified Relaxation Teacher Teach?
A Certificated Relaxation Teacher & Therapist
Teaches simple yet powerful stress management strategies that help the mind, body, and emotions come off the "stress response" into the "relaxed response".
In our training, we teach a wide range of breathing, relaxation, meditation, mindfulness anxiety, and stress management techniques. Used in various ways to reduce, manage and let go of chronic anxiety, chronic stress, depression, insomnia even pain management.
The Many Benefits Of Teaching Relaxation Therapy
Some of the many benefits of a career in Relaxation Therapy. One of the great things about teaching relaxation, meditation, and stress management techniques is these tools are so versatile. Many relaxation therapist techniques can help eliminate and reduce a wide range of health and wellness challenges. They don't just reduce anxiety and stress. These relaxation tools and techniques help reduce insomnia, depression, and reduce muscle tension and pain as part of a pain management program.
Relaxation therapy is not just for one-to-one clients but is very effective in groups, classes, webinars, and workshops.
Why Organisations Want A Certificated Relaxation Therapist & Teacher?
Most health, education, and charity sectors recognise the dangers of untrained and qualified teachers and trainers in these areas. Especially the NHS, schools, charities, and support organisations that support vulnerable people who are highly anxious and stressed. Relaxation therapy like any form of therapy has to be applied safely and effectively to suit each client's needs. Some types of meditation, breathing, and relaxation techniques are not suitable for certain types of life challenges or health conditions.
What I Love About Teaching Relaxation Therapy To Students
The thing I love most about teaching relaxation therapy is that in this type of therapy you teach the client or student the techniques. You get to empower the client with the tools and techniques to change their life, to reduce their anxiety and stress. They get to learn lifelong skills they can apply to their daily life to become happier and healthier.

Where Can You Train As A Certificated Relaxation Teacher &  Relaxation Therapist?
Relaxation Therapy Training is still quite a niche therapy and training. So as yet it is not a widely available training, especially by teachers that specialised in this area. I used to offer live training in Scotland but now all my training is online, which includes online live webinars and online live assessments. Through my training business Stress Coach Training
The training is now available as a non-certificated course for personal use or Certificated for professional use. Our Accreditation Level requires you to undertake the full Relaxation Therapy Training, quizzes, assessments and the case studies, assessments for accreditation. Most students do the course over 6 – 12 months, as they recognise the importance of mastering the techniques themselves before teaching them to others.
At the moment I don't know of any other training that teaches students as many different tools and techniques as we do. I not only bring a wealth of knowledge in this work but experience as a stress management advisor and consultant, meditation teacher, counsellor, coach, and healer.
Learn How You Can Earn A Healthy Income As A Relaxation Therapist & Relaxation Teacher
How you can learn a wide range of breathing, meditation, mindfulness, relaxation, and stress management tools all in one course. We also have just launched a new 9-month payment plan on the foundational relaxation therapy training and coming soon our Stress Management Practition Course.
Sign Up To My Free 5 Day Video Series 
Learn How To Create A Career As A Relaxation Therapist & Teacher