How Do You Reduce Christmas Day Stress? We all know Christmas is supposed to be a time of joy, happiness, generosity, and kindness. But sadly Christmas and the pre-Christmas period for many can be anything but.
For some people, Christmas is a time of despair, for some a time of deep sadness, and for many a time of increased anxiety and stress. The pre-Christmas and Christmas period can be so crazy and stressful that many people end up ill during the festive season.
Sadly Christmas can bring up all sorts of emotional turmoil and pain. From deep grief, sadness, isolation to a lot of external pressure to take part in events you would rather avoid. The big one for many people this time of year would is dreaded anxiety when having to spend Christmas day with close relatives or in-laws you just don't get on with.
The fact that Christmas events are often fuelled with too much alcohol, sugar, and not enough sleep. Alongside too many people who don't always get on in the one close space. For some, the thought of cancelling or avoiding Christmas is actually quite appealing.
But the facts are no matter what, Christmas is a time for joy, happiness, generosity and kindness. And no matter who we are spending Christmas day with or where we are spending Christmas day. Being calmer and stress-free and even happy is all about choice.
So no matter if you are the host or someone's guest. Here are some tips to help you reduce Christmas stress and get through the festive season with more calm, peace and joy.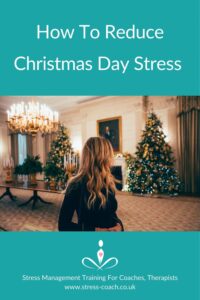 Top Tips To Reduce Christmas Day Stress
Tips For The Christmas Day Host
Plan Ahead – Planning ahead can help you get more organised and stop you forgetting or leaving important tasks, food shopping or gifts to last minute
Delegate – get family, kids, and guests involved before and on the day. Help everyone feel as if they are important. For example ask who would like to help serving, who would like to do the party games, who would like to help with music, and of course choose wisely who will serve drinks.
Prioritise – Remember what's important, what Christmas is really about fun, joy and heart giving.
Let Go Of Control – Don't get too caught up in perfection and now allow for
Reduce Alcohol Problems – there are various ways you can help reduce the amount of alcohol consumption. You could start your Christmas day or party later in the day. Or choose to start serving alcohol much later in the day. Serving small nibbles or snacks might not be what you used to do. But maybe a way to ensure no one starts drinking on an empty stomach.
Organised Table Seating if you have two or more guests that are best kept at a distance. Even the rest of the family can help with this if they know two people shouldn't be left close together.
Get Out Of The Kitchen – Make sure you don't spend all day in the kitchen, happy guests remember a happy fun host that actually has time to spend with their guests. Let go of the need to be the perfect host and be the happy fun host. Your guests won't remember the perfect dinner or table. They remember the love, the joy, the moments of happiness.
Tips If You Are A Christmas Day Guest
Plan Ahead – plan how long you will stay make sure you sort of traveling or taxi requirements before hand.
Be The Perfect Guest- Ask what you can bring or what you can do for the host this will help gauge the formalities, what the host expects or doesn't expect from their guests. If you feel under pressure why not bring an inexpensive game, something homemade or an extra thoughtful card.
Reduce Alcohol Consumption – If you are concerned in any way about the day, avoid or reduce your alcohol consumption. Alcohol may make you feel more relaxed but it doesn't often help you be more aware of making the wisest decisions. If you don't plan to drink or only plan to consume a small amount of alcohol, consider bringing your own low alcohol or alcohol wine or beer. This tactic can help you avoid extra pressure from drunk relatives who are more likely to notice a non-alcoholic soft drink.
Stop Ruminating – Stop worrying about what if's, events or situations before they have happened. Don't keep thinking about previous situations. Every Christmas day, every Christmas party or situation is a new different, a totally new experience.
Be In The Moment – Take one step and one moment at a time. Let the day unfold exactly how it is supposed to be. The more anxious or stressed you are, the more negative energy you add to the situation. Approach Christmas day and every Christmas party in a moment to moment open-hearted way.
Don't Feel Pressurised – don't feel extra pressure to do anything that is not right for you. Such as buying gifts for the host or host's family you simply cannot afford. Having that drink or extra drink if you don't want to. Just say NO. Your presence and open heart are far more appreciated and remembered.
Tips If You Spend Christmas Alone
Choose To Do Something You Enjoy – Some people for a variety of reasons can spend christmas day or a large part of christmas day alone. So choose to do something that day you enjoy, it could be a nice walk, watch your favourite film, play your favourite music…
Arrange A Chat Virtual Chat With A Friend – Pre-arrange with friends or family members when it will be a convenient time to give them a call or have a virtual chat especially as christmas day can be a very busy or stressful day for others. Think of other friends of family who will be alone who will appreciate a callwould love a chat.
Make Your Favourite Dish – One great thing about having christmas alone is that you get to choose what you eat, you don't have to be polite or forced to eat someone's christmas meal that you don't like or would normally eat. Again make an effort to choose to something special you will enjoy.
Like above stop ruminating, be in the moment and remember even if though it is christmas day it is how we view our day that can make us happy or sad.
Due to a lot of health challenges over the years I have spent many years where I spent a large period of my time alone especially as christmas dinner was always at times when I was due a nap or rest. And well as someone who comes from a  very large family and who suffers from extremely painful hyperacusis, noisey christmas's aren't exactly good for my health. In-fact it can leave me in pain and triggers seizures so I just plan an alternative type of christmas to suit me.
I always make a conscious effort to have my own special day. I am lucky I have friends or family who want a chat or sometimes pop in in christmas eve or christmas morning but too many and well its over exhausting. So I do what I can to make it special in my own way. And I focus on what I am grateful for and can do rather than anything I could feel left out from.
Christmas can be in many ways what you make it in your heart and soul, rather than what you think it should be externally.
If you would love to experience less stress, calm, more joy and love this christmas check out our 12 Days of Christmas Calm starting Monday 13th Dec 2021. Don't worry you can join in anytime before Christmas to get access to some fabulous tips. Sign up Below.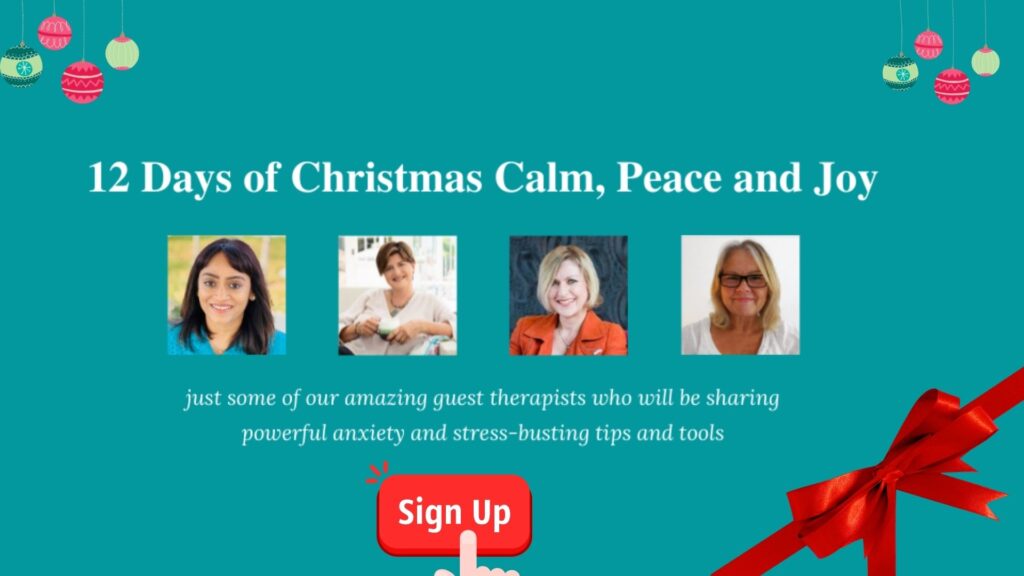 [arve url="https://youtu.be/rBN7TanYyg0″ title="How To Be Calmer For Christmas" description="how to be more calm for christmas by stress expert, eileen burns, stress coach training" /]