Emergency Stress Kit For Workplace and Office Stress. Stress Relieving Products and Stress-Busting Techniques That Are Perfect At Reducing Stress.
Emergency Stress Kit to help you cope with anxiety and stress at work. Sadly many work environments have become very demanding; especially when there are high targets and short deadlines, poor systems or power-driven management, bullying, harassment, or colleagues lacking training or skill.
We spend so much time at work, we spend so many years of our lives in our careers that it is important to make work as stressless as possible. As a Stress Management Advisor, my role involves stress management awareness, stress management resilience, and stress reduction skills for work as well as home.
The more you can reduce your stress and anxiety at work, the happier and healthier you will be not just at work but at home.  When we are over-anxious, stressed at work it starts to impact other areas of our life, our health, our confidence, our sense of security. So it is very important to do this to address any workplace stress or anxiety.
Chronic anxiety and chronic stress are something you don't just have to live with. There are many things we can do to alleviate stress at work, to become more stress resilience in the workplace no matter what type of job you are doing.

Emergency Stress Kit Of Stress Relieving Tips And Products
Here are just a few Stress Management Tool, Techniques, and Stress Relieving Products I believe should be part of everyone's Emergency Stress Kit For Work.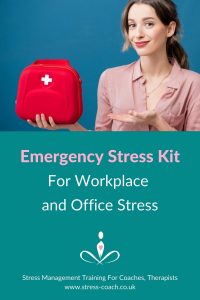 Remember Your Water Bottle: It is important to stay hydrated, drink plenty of pure fresh water at work dehydration increases anxiety and stress levels. Good hydration places an important in maintaining homeostasis in the body part of any stress reduction program
Healthy Snacks: It is important to have healthy meals or snacks while at work to fuel your body and mind the healthy way. It is important to stop and mindfully eat.  It is always worth having some emergency healthy snacks in your bag or office. A brain-boosting supplement like this Cognitive Supplement for intense periods of mental focus. A Supernutrient Vitamin B Complex helpful to support the bodies nervous and energy system.
Take Time Out To Switch Off: You should always take breaks at work, move away from your desk or work area during break or lunchtime. When we work through breaks, don't take time out our body forgets how to switch off it remains in the stress response.
Learn how to say NO: Lack of assertiveness can be a huge problem at work. It can lead to over commitments, external and internal pressure, overwhelm, and exhaustion. So start learning how to become more assertive, how to have healthier boundaries. Important life and work skills are a necessary part of remaining healthy at work. If you find this challenging discuss this with management and see if there is any assertiveness training or support your HR time can do to help you.
Fast Effective Stress-Busting Tool –my 5 Minute Meditation a simple less than 5-minute meditation technique that can be used at work tea breaks, on public transport, in waiting areas… This became my most popular stress and anxiety-busting technique for all ages. It is so easy and quick that it actually takes just over 4 minutes.

Rescue Remedy- Bach Rescue Remedy is a blend of Bach's Flower Essence's combined to help treat anxiety, stress, shock, trauma, worry, exams, driving test… The great thing about flower essences is you can use them alongside any medication and is simply added to your drinking water.
Calming Teas: A soothing decaffeinated tea or herbal tea such as this  Organic Calming Tea which is designed to help you Relax, Unwind is extremely calming and soothing.
Relaxing Aromaballs – I think these little things are one of the simplest but greatest inventions. They are small bottles of aromatherapy blends with a roller ball that makes it easy to apply the aromatherapy blend of oils to your neck, temples, and pulse points. These stress-relieving aromatherapy remedies encourage a calming, relaxing effect.