Our Certificated Relaxation Training Course for Therapists, Coaches, and Healers is the Ultimate Relaxation Therapy Training. A one-stop Relaxation Therapy, Anxiety, and Stress Management Course packed with thousands of pounds worth of tools and techniques for therapists who want to empower their clients and students.
Our Certificated Relaxation Training Program
Our training is for students who don't want to just be a Relaxation Therapist but a Relaxation Teacher. For coaches and therapists want access to deep, thorough, safe, and effective training. By a highly qualified, experienced, and dedicated Stress Relaxation Therapist, Stress Management Expert, and Meditation Teacher of 20 years. A trainer who has been studying stress management, meditation, and many therapeutic disciplines for 30 years.
Professional Certificated Relaxation Therapy Training
We know how important it is for therapists, coaches, and healers to get safe and effective training when they are supporting others with their mental, emotional and physical wellbeing.
"As a qualified therapist, counsellor, coach, healer and someone who has had rare and chronic medical health challenges from childhood. Who has invested highly in holistic wellbeing for myself and training for over 30 years. I know the importance of investing in the right training to safely treat your clients.
Sadly not all approaches and treatments were always safe and effective. I learned many lessons especially about the importance of investing in suitably qualified therapists, and training. This is one of the reasons our Certificated Relaxation Therapist & Teacher Training is not a fast-track training course. We want our students to not only be Calm and Confident but to practice what they preach." Eileen Burns, owner of Stress Coach Training

Relaxation Therapist Tools & Techniques
Therapists today need a wide range of tools and techniques to support their clients. If you want to be a teacher, a trainer you want a wide tool-box to suit different situations and different clients.
Stress and Anxiety Is One Of The Biggest Causes Of Dis-Ease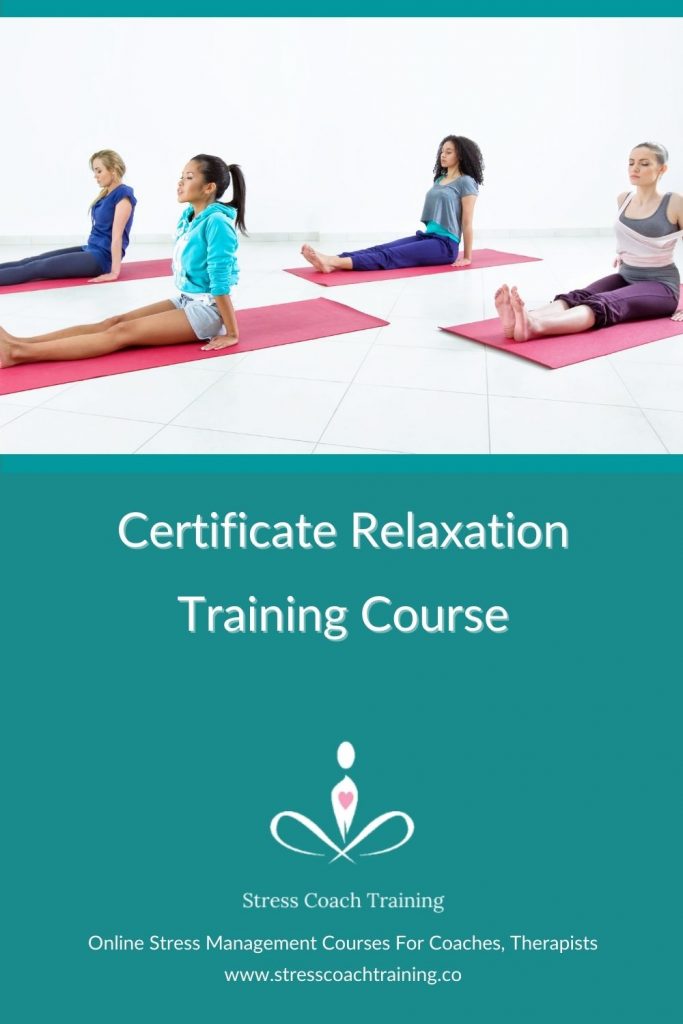 Stress, Anxiety, the inability to switch off is the biggest causes of dis-ease and disease. It is very much the biggest pandemic of modern life. But the problem is there are not enough therapists, or teachers out there teaching people how to manage their stress, how to manage their anxiety. There is a great need in society for more therapist who can teach this powerful self-help, relaxation and stress management techniques.
The more you can help your clients let go of anxiety and stress, the bigger impact you can have on their quality of life. That is why our students love our Accredited Certificate Relaxation Training and our Stress Management 101
As a coach, healer, therapist, and teacher who began studying healing and holistic wellbeing nearly 30 years ago. Who spent most of the last 18 years teaching meditation, stress management, and relaxation techniques to the health, education and charity sector. I know what works and what doesn't. And why different stress management tools and techniques should be used on different clients with different challenges.
Contents Of Our Relaxation Therapist Training
In our training, we teach you how to help, support, and empower your clients in a safe effective professional manner. With a wide range of self-help and therapist tools and techniques which include
Basic NLP
Breathing Techniques
Lifestyle Analysis
Mindfulness Techniques
New Payment Plan Options For Relaxation Training Course
We now have a 6-month payment and 9- month payment plan offer for the foundational training. That is perfect for those of you who want to spread the cost and take your time over the training.
Online Quizzes And Assessments
Our online training includes regular online quizzes to help you assess how well you are doing. If you want to go on and do the accreditation to get a certificate you will have some client case studies to do and an online assessment.
Affiliate Commission
Students now have the potential to earn 15% affiliate commission selling/sharing our training. **Specific terms and conditions do apply. But this is a great way you can potentially actually earn back what you spent on our training. A great way I can give back to dedicated students who want to promote my products and services. Grow the community and make the training even big and better.
Originally published Feb 2018 updated March 2021
Want to learn more about how you can achieve our Certificated Relaxation Training?