How To Teach Clients How To Relax
There are so many ways therapists can teach their clients how to relax and reduce their stress levels.
Therapists no longer just treat the chronic long-term effects of stress. But are now teaching clients simple yet effective ways to manage and reduce their stress. Empowering clients to take back responsibility for their health and wellbeing. Motivating and supporting clients to make healthier choices especially around self-care and managing their stress.
Despite being a coach, counsellor, healer and therapist for many years. My biggest demand for work for 19 years has been teaching stress management skills. Especially teaching relaxation and meditation techniques. Most people today struggle to relax, struggle to switch off because of an un-natural mindset and an un-natural lifestyle. This constant state of stress is playing havoc with their mental, emotional and physical wellbeing.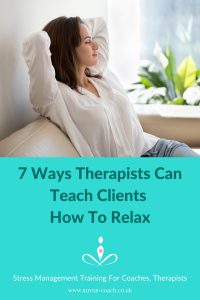 As a therapist, you see the chronic muscle tension, anxiety, stress or depression, insomnia, adrenal fatigue alongside chronic health challenges.
The more you really know your clients and understand their challenges the more they trust you. And value your advice, your suggestions.
Clients recognise those therapists, healers that have their clients best interests at the heart of their business. And when you can help give them what they need, it is even better.
Before I began to offer my Certificated Relaxation Therapist & Teacher Training for therapist and coaches. I had been asked to offer this sort of training by so many healers, therapists and organisations. There was so little training in this area and the few that did were not written by people actually doing this as their main job. Or teaching it safely and effectively
So I created my non-certificated and certificated  Relaxation Therapy Training Program over 5 years ago. From the healer's, counsellor's, therapist's, stress management advisor and meditation teachers perspective. A relaxation therapy course that not only offered relaxation techniques but meditation, anxiety and stress management techniques. Today our online training has even more; grounding techniques, mindfulness tools and so much more…
Today we need more than therapists and healers to help people with the symptoms of their stress and dis-ease. We need teachers who can help clients STOP and reduce the cause of that STRESS.
Many organisations recognise that investing in stress management training is a more cost-effective way to reduce stress at work. Than just employing just counsellors or therapists. Teaching Relaxation Therapy, Meditation and Mindfulness tools is a great way to help make big changes in people's lives . Teaching relaxation techniques to your clients, local organisations and sectors can be an additional source of income for many therapists.
7 Ways You Can Teach Clients How To Relax To Reduce Stress
Manage your own stress and heal your own trauma the more calm and relaxed you are the more your client will be and will want to be like you.
Learn to ask the right questions, so you get to know your clients biggest stressors and can make the right suggestions.
Include some top stress relieving and relaxation tips with your aftercare leaflet.
Offer stress relieving and relaxation products or aids alongside your other products or services.
Network with other therapists you can cross-refer e.g. meditation teachers, yoga teachers, counsellors, relaxation therapists…So you can recommend your clients to the right professionals.
Offer relaxation and stress management workshops, webinars or blogs. Invite in other and wellbeing experts into your clinic or therapy practise.
Give top stress relieving tips in your newsletter.
One way to seriously boost your income and your clients is to Become a Relaxation Therapist. Our certificated relaxation therapists, relaxation teachers are qualified in a wide range of meditation and relaxation techniques that students love.
This type of stress management therapy business can be expanded out to corporate, occupational health, charity,  health and education sector. Teach management and employees how to manage their stress and anxiety.
I spent a large part of my career as a stress management trainer and relaxation therapist teaching relaxation therapy to the education, health and charity sector. I taught all ages and sectors, from small groups of less than 10 people to larger groups of a few hundred. I taught classes from as young as pre-school to over 70.  I  loved the fact I got to do what I loved to do in a happy and healthy way.
Sign up to my Free Webinar-